Breast Cancer Awareness Month
     From Oct. 1 to 31, the education and awareness for breast cancer is prominent in many countries all around the world. Informing others helps decrease the risk of being undiagnosed and provides the many foundations around the world support to help fund their organizations. 
     Breast Cancer Awareness Month started in 1985 between the American Cancer Society and the pharmaceutical division of Imperial Chemical Industries. The 38th First Lady, Betty Ford, was a survivor of breast cancer and gained much attention towards the medical issue when in office. 
     The famous pink ribbon that correlates with breast cancer began in 1992 by the Estee Lauder makeup cosmetics company to give to people as a visual reminder of the issue during October. 
     The NFL then became one of the most prominent supporters to back this idea up and most players, referees, coaches, and more started to wear the pink ribbon every October to show their support.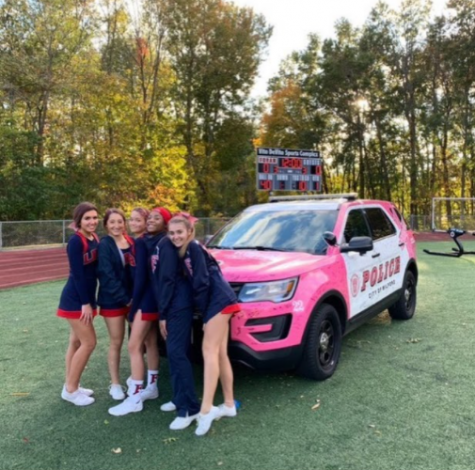 Breast Cancer, as of January 2020, has affected more than 3.5 million women, according to Breastcancer.org and affects about less than one percent of men and about 13 percent of women. Despite these statistics, there are over 3.8 million breast cancer survivors in the United States, according to Nationalbreastcancer.org. 
     Locally, in Connecticut there are many organizations and fundraisers that help spread awareness. The Get In Touch foundation and Daisy Wheel, which started on February 4, 2004 by Mary Ann Wasil, helped inform the young community of what breast cancer is really about and how to detect it during the beginning stages. 
     The foundation also helps educate everyone on breast-self examination and breast health. Betsy Nilan, President of the Get in Touch Foundation, says, "…we hope it brings awareness and attention to the topic of breast health which is sometimes a topic people are uncomfortable talking about…everyone should know their normal all year long–not just in October! Spreading awareness will help us normalize breast health." 
     At Foran, the yearly October fundraiser helps support and fund the Get in Touch Foundation here in Milford. History teacher, Mrs. Jessica Bove, and English teacher, Mrs. Lisa Farrell, both help organize the local non-profit organization. Bove says, "This fundraiser is important…because it seems like almost every person knows someone or has someone in their own lives who is affected by breast cancer." 
     According to Breastcancer.org, about one in eight women can contract breast cancer. This cancer is commonly known, so spreading awareness to those who have been affected by it can help inform them to spread the news as well.
     Last year, Foran raised about $500 at the pink football game for the Get in Touch Foundation. This year, the school raised over $250 despite there being no football games, the main contributor to the fundraiser at school. To support the foundation even more, making a donation at getintouchfoundation.org can continue to help this local organization.
     Many swim teams, including Foran's, in Connecticut help fundraise for the organization Lion Heart. Lion Heart, founded by Kathleen van Rijin, is an organization that funds for the research of breast cancer and helps raise money to donate to breast cancer researchers. The Lion Heart Lap-a-Thons are swimming events in the Connecticut area which compare the amount of laps girls swam to the amount of money raised. 
     Although the event did not occur this swim season, Shauna Newall, assistant coach of the swim team, says, "I think October is a time where people are reminded of ways they can prevent breast cancer, but also celebrate the survivors and honor the victims of the disease. I think it is great when people get involved in causes." Making a donation to Lion Heart at lionheart.everydayhero.do can also help support this local organization.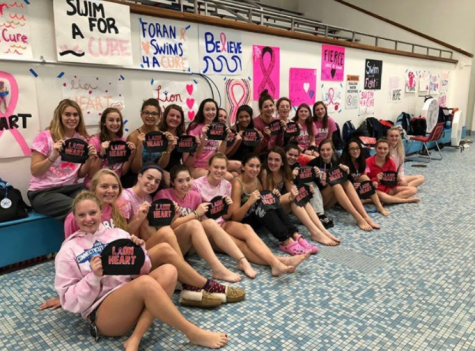 As a community, fundraising can help others locally and build relationships with those who are dealing with the consequences of this cancer and may need reassurance. Bove shares, "It is an awesome opportunity for our school community to come together to support this cause…let those who are affected by breast cancer within our community know they have a support system here at Foran."
     The Get in Touch Foundation provides a free Daisy Wheel App in the App Store that helps teach anyone the steps of a breast self-exam and sends regular reminders of examinations. 
     The color pink is an important symbol to help address breast health and breast cancer. Nilan says, "We want to normalize it! On October 1, everything turns pink–and we want people to remember the meaning behind the color."