Tips for Winter Holidays During a Pandemic
     November and December have the busiest holidays of the year. With these events approaching, how can we stay safe from Covid-19 while we travel and enjoy these special occasions with our loved ones?
     There are many limitations this year that prevent families from properly celebrating Thanksgiving or simply spending time together. For instance, families will need to limit their guest list to keep everyone safe, and those who are at higher risk of getting Covid-19 should refrain from attending large gatherings.
     Ms. Baleigh Toon, an intern at Foran High School, shares her plans for this upcoming Thanksgiving. She says, "My family has decided it would probably be best if we all just hung out with our immediate family for this year." Ms. Toon also has other relatives who live at a distance from them, like her grandmother. She states that she and her family plans on including her in their Thanksgiving celebration by saying, "Although, I'm sure we'll FaceTime my grandmother into dinner at some point."
     Many people have to be creative in order to include extended family members in celebrations while still being safe. Similar to Ms. Toon, others may use the iPhone's FaceTime app or other video calling sites, like Skype and Google Duo, to include friends or family members virtually.
     Another protocol that travelers need to consider are the restrictions being implemented by each state. Certain states have visitors self-quarantine for a week or two upon their arrival. Connecticut is listed as one of the states to enforce travel policies. 
     Mrs. Tracey McCabe, a nurse in the ICU at St. Vincent's Medical Center in Bridgeport, Connecticut, traveled home from Las Vegas. Nurse McCabe shares that she got two Covid-19 PCR swabs a few days before going home. A PCR swab, or a nasal swab, is a test that can determine whether or not a person has been infected with Covid-19. It is important to get tested first before traveling or attending any kind of gathering. The test result will determine if you are safe to be around other people or not . 
     Nurse McCabe also offered some safety precautions to follow during the holidays: "Monitor for symptoms and wear a mask and use social distancing. Wash your hands or use hand sanitizer frequently! Do not hug or kiss anyone that you don't live with."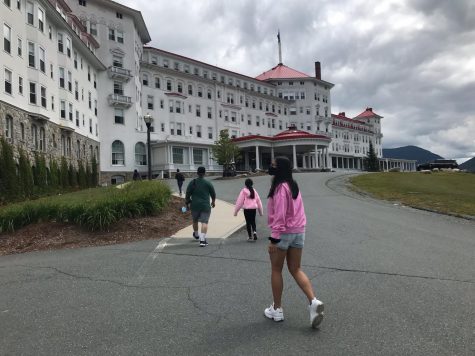 Emilia Russell, a junior at Foran, has traveled to Vermont a few times this past year. "We made sure to not stop in stores in different states and went straight to our destination," Russell says. She also shares that her family owns a cabin in Vermont, which helps them keep distanced from others. 
     Students of Milford Public Schools will need to follow the district's travel guidelines if planning to go somewhere over the holidays. Students are strongly encouraged to avoid non-essential travel outside of state and abroad, as stated in Dr. Cutaia's letter, but if needed, the student will have to self-quarantine for 14 days upon their return to Connecticut or present a negative Covid-19 test prior to their return. A negative RT-PCR is the only acceptable test in lieu of the 14-day quarantine and the person must provide written proof.
     For the parents of Milford Public School students, if there are plans of traveling outside of the state or the country, it is advised to contact your child's school principal so that they can prepare to meet your child's academic needs for the amount of time they may miss in school.