Milford Fire Department Changes
Adapts to Covid-19, Helps Community
     The Milford Fire Department first responders work day and night to keep the community healthy and safe, and since the Covid-19 pandemic they have had to incorporate new procedures and protocols to ensure safety from the virus as well.  
     There are four active fire stations in Milford with headquarters located across the Milford Public Library.
     Detective Gillian Gallagher says, "As a police officer, I note that the fire department can bring apparatus, medical needs, and other tools that can aid a person in need of help. Nobody else would be able to provide the services that the fire department can."
     The Fire Chief and the Emergency Management Director, Douglas Edo, and many medics play a major part in contributing to the choices made in the department and making the right decisions to keep everything running smoothly. The fire department has many jobs to do in Milford, but they also have to help with Covid cases.
     The procedures when coming into contact with a Covid-19 positive patient start with the decontamination process. The process is very vigorous to ensure the firefighters' safety and well-being. 
     After the paramedics transport a Covid positive patient to the hospital, they have to follow a specific procedure to decontaminate starting at the de-con facility. There, some items can be cleaned and some have to be thrown away. The facility is prepared with extra towels and clothes for the essential workers to clean off after contact. The ambulance and equipment is then thoroughly cleaned with proper chemicals and sprays to keep everything sanitized. Since Covid-19 started, it is estimated that the fire department has been to about "500 calls that were positive cases with an additional 750 in the city who went to the walk in and got tested on their own", stated by Battalion Chief, Thomas Thornberg.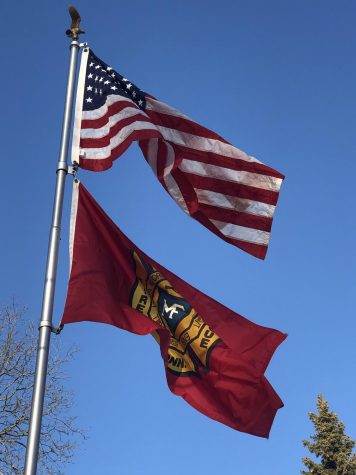 When dealing with a Covid patient, the paramedics have to wear personal protective equipment (PPE). This equipment includes face shields, masks, goggles, gloves, and sometimes Tyvek suits. The demand for these supplies is very high due to the times we are in so it is difficult to obtain the supplies that are necessary. They are gone through so quickly and need to be replenished even faster. 
     Thornberg says, "After several months of cleaning and holding onto Tyvek suits and N95 masks for future use in the case there was a shortage which there was. We purchased cleaning supplies in bulk and concentrate to dilute and use alternate methods instead of one time usage like Lisol for an example. To this day one still can't find a can on any shelf out there. We purchased an Aeroclave machine that would aerosolize a cleaner/disinfector for multi usage."
     Throughout the many changes firefighters have to face, one of the most difficult changes is the environment of the firehouse. The interactions between workers and the community have been highly impacted while trying to prioritize safety for everyone.
     Firefighter and paramedic, Thomas Hope says, "I would have to say the climate of the fire house has been the most difficult change. We are like a big family. Not being able to have a normal interaction with each other, just like at home, has added a burden to an already stressful job. We still enjoy being with our brothers and sisters helping the community, but it definitely is not the same."
     Fire Chief Edo dedicates his time to run the fire department smoothly and safely. Edo says, "I remember working the department in the 1980's and AIDS appeared, WOW, but in time, like now, just a little education and the proper protocols you get through it."