How to be an Expert On All Things College
Everything to Know About Starting the College Application Process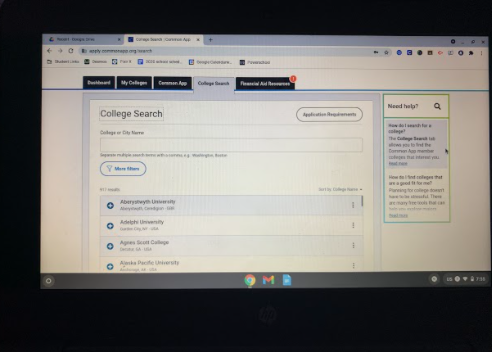 As the first of May slowly approaches, seniors from all over begin to commit to colleges, and underclassmen are starting to look into the process of applying. 
     The college process can be challenging for those who go into it with a closed mind, but students can tackle each step in a few simple tasks. Starting with a list of each different task and the due dates is the first challenge. Although due dates vary each year, every college requires the same paperwork to apply.
     Visiting Colleges and Online Tours
     At any time, students can begin looking at different colleges and start determining where they might want to apply to when the time comes. More recently, the public hasn't been allowed to go directly on the campus in some cases, but usually, students can book tours on the college's websites. If a tour is not available, people are allowed to walk around campus and explore at their own pace. If circumstances continue for COVID-19 restrictions, on websites, most colleges created a 360o tour of the campus, which students can look at any time.
     Common App 
     Each college has its website where students can go to apply, but going back and forth to each site can sometimes be overwhelming. Common app is a website that allows you to apply for most colleges all in one place. It helps to relieve that stress and focus yourself all in one place. 
     College Essay 
     When writing a new essay, a student should decipher which topic is best to send to a school. This topic should reflect someone's overall life and possibly a challenge to overcome. Although colleges accept most subjects, there are a few to avoid writing about. Ms. Jill Dion, Foran's Writing Tutor, advises students to, "avoid writing essays that focus on their weaknesses unless the essay explains how the student overcomes the weakness. These include essays about a sports injury, grandparents' death, and parents' divorce."
     Common App also has specific prompts that you can use for your college essay to help you stand out from the crowd. Dion advises students to look at these prompts to see which one works for you. She also says, "look to see if the college you are applying to have its separate essay prompt, and be sure to stop into the lit center and ask someone to read your essay for you before you submit it."
     Dion can always be found in the lit center (room #239) and is always open to help anyone with any writing needs. 
     Teacher Recommendations
     Many colleges require at least two teachers or staff recommendations to add more to how people see you as a person. Senior Emma Jerue says, "Make sure you ask your teachers early. That way, you're ahead of the game. Some teachers limit how many recommendations they write, so it is important to ask them early, near the end of their junior year. This ensures by the time it is time to apply; they are already done." This allows the admissions officer to get another adult view of the student. Through the Naviance app, there is a section to send teachers a request to write the review. Also, asking the teachers before summer before senior year allows teachers to respond and write a good recommendation.
     FASFA & Financial Aid 
     Going to college can be very expensive, which is why the Free Application for Federal Student Aid (FAFSA) is there to help. FAFSA is a free online application that helps students understand what grants, scholarships, student loans, and work-studies are available based on a student's family income. It is crucial for applying for college because it is shown to financial aid offices and can help qualify you for the school's scholarships. 
     Ms. Melissa Wunder, a counselor at the College and Career Center, is very helpful when undergoing this process. She advises students to always fill out the FAFSA since it can have many benefits in the future. "FAFSA is the tool used to determine eligibility for federal student loans. Federal student loans have many benefits not typically found in private loans; low fixed interest rates, income-based repayment plans, cancellation for certain employment. The main advantage of not having to make any payments while you are enrolled at least half time in school and for up to six months after you graduate," Wunder says. 
     FAFSA has three deadlines, the school deadline (varies between colleges), the state deadline (Connecticut is February 15, 2021), and the federal deadline. Although the overall deadline is June 30, 2021, it is better to apply earlier; it will guarantee your spot in financial aid and "you'll have a better chance at more federal financial aid or school financial aid," according to studentaid.gov.  
     For any questions regarding the college application process, please visit the College and Career Center or email Ms. Wunder at [email protected].