Ferguson Protests
Julia Astram
Staff writer
                Ferguson, Missouri has been the subject of many news headlines recently. Since the conflict between the teenager, Michael Brown and police officer, Darren Wilson, the town of Ferguson has been at the forefront of news stories. The shooting initiated protests that shook the area for weeks.
On November 24, the St. Louis County prosecutor announced that a grand jury decided not to accuse Mr. Wilson of shooting without being threatened. After this announcement the entire country erup
ted with protests.
The protests and nationwide walkouts have been changing school life for students across the country.
Specifically, the students in Missouri want to take part in marches and other forms of protests during school and with their classmates. This has become an issue for these schools and the children because their freedom is being restricted.
Sophomore Hannah Pouliot said, "The change from middle school to high school gives you much more freedom. The level of independence that a student receives increases as they go up in grades."
In Ferguson students are not given as many freedoms as at Foran. A student told the Huffington Post "At lunch there are officers at every exit, and you can't leave class to use the bathroom without a police escort." Police are worried that riots and protests will emerge in the schools if they do not take immediate action and place police in the schools.
Earlier this month when high school students in the neighboring Ferguson school district took part in the nationwide walkouts, their protests were treated more like a field trip on free speech and public dissent.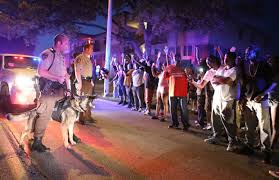 The shooting sparked controversy about racial views in the criminal justice system and the country as a whole.
Songs and other media have been created in response to the shooting and the resulting unrest. The song, "The Game Don't Shoot Dedication track to Mike Brown," featuring Rick Ross, 2 Chainz, Diddy, Fabolous, Wale, DJ Khaled, Swizz Beatz, Yo Gotti, Curren$y, Problem, King Pharaoh, and the group TGT was one of many songs dedicated to Brown.
The shooting has stirred up the nation and has brought more attention to racial issues.
The protests that erupted have impacted the way of life in the Ferguson school districts and the nation as a whole, and protests will continue to occur. This will be a difficult thing to stop because many people feel that justice was not served.
Leave a Comment