Teacher Spotlight: January
Reilee Barron
Staff Writer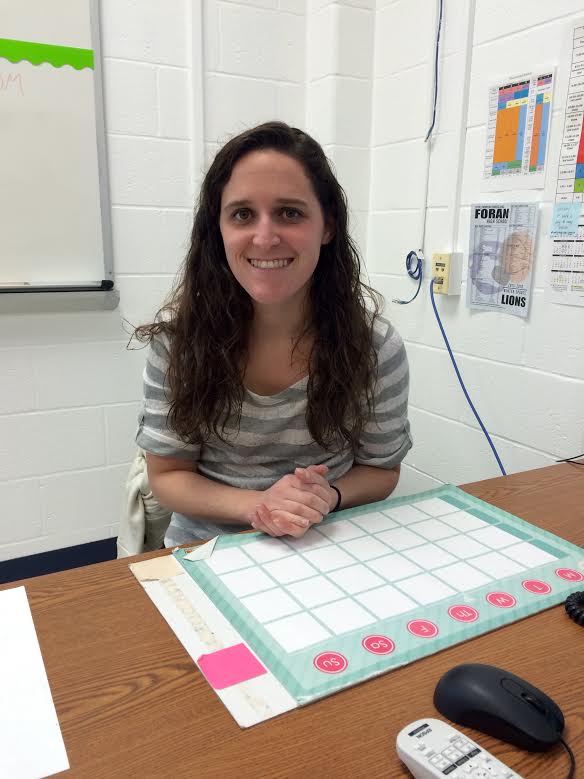 Miss DiCapua, part of the math department, teaches AP Statistics and also works with students in the Numeracy Support Center.
"Miss DiCapua is very friendly and helpful," said senior Richard Repetsky.  "She is easily approachable and is always available for extra help if you need it. I really enjoy math and I need AP Statistics for my college major. I'm really happy that Miss DiCapua is teaching me what I need to know."
Miss DiCapua enjoys teaching this subject because, she said, "it can be used in many different parts of everyone's lives.  It is a subject that is used in many careers."
This is her second year teaching at Foran High. She also taught eighth grade in Springfield, Massachusetts for three years.
So far, Miss DiCapua has had a very positive experience working at Foran and values her job very highly.
"My favorite part about being a teacher is getting to know all my students and preparing them to become successful adults," she said.
In addition to the pleasant aspects of being a teacher, there are also some challenges. Miss DiCapua shares, "The most difficult is making sure I am preparing the best lesson for all my students."
To start her career, Miss DiCapua attended Assumption College in Worcester, Massachusetts. Graduating with a major in mathematics and a concentration in Secondary Education, Miss DiCapua then moved on to start her career as a teacher.
Growing up, she never doubted her desire to become a teacher. She said, "Growing up it was an elementary school teacher.  Then, when I was in high school, it changed to a high school history teacher, and well as you can see in college, I decided on a high school math teacher."
Other than teaching, Miss DiCapua works to be an active part of the Foran High community. She has been helping out with the Powderpuff football team since she has been here. She plans to continue as an assistant coach in future years. Miss DiCapua also advises the SADD club, or the Students Against Destructive Decisions club. And she can be found at all of the various sporting events and theatre productions that are put on at the school, as she tries her best to attend as many as possible.
Leave a Comment