Shannon Flynn
Staff Writer
As the Holiday Season is quickly approaching Foran celebrated at the Annual Winter Concert. The concert included Foran's Jazz Ensemble, Concert Band, the String Orchestra, Concert Choir, and the Advanced Vocal Ensemble. Band, Choir, and Strings played classic Christmas songs as well as some more original including some very creative and theatrical performances by the Advanced Vocal Ensemble.  The concert then started off with the Jazz ensemble made up skilled musicians who performed as a group and many were given solo parts. Standout solo moments included Senior, Lyric McVoy on the trumpet, Chris Petrucelli on the piano, Sophomore Heather Shea on the drums, and many more.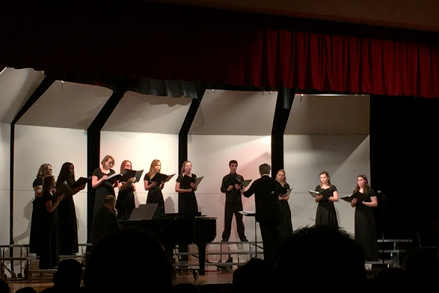 After the jazz ensemble, the choir took the stage and sang to the auditorium's full house without skipping a beat. Ms. Voss led her boys and girls choir in the advanced vocal group and in the full concert choir. Students, Samantha Martinez and the students later presented Mrs. Voss with flowers and kind words explaining their gratitude for their teacher and the support she offers them every day.  Lastly was the Strings group, made up of sophomore to seniors, and a very strong group of freshman. Within the strings musicians was the self-named, "Original Group," made up of students who have played together previously and bonded before the new wave of students joined them. Three from the group sophomore Becca Paine, senior Amanda Shaw, and sophomore Agatha Holland, mentioned how the freshman this year added a lot to the program as there are now many more strings players and also how they are all happy to be playing together again this concert season.
Overall the concert was a success for the students and the guests that came to watch, including the bake sale outside the auditorium which was constantly getting business throughout the small breaks and intermissions throughout the night. The students also showed their camaraderie with their peers in the music department as several songs by choir were accompanied by band and strings instruments such as the cello and the flute.